Ripon Live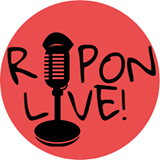 As the Student Senate's programming body, Ripon Live provides numerous fellowship and entertainment activities for Ripon College students. Whether its movie screenings, bar-tending lessons or live music, Ripon Live does it all.
Our most anticipated event every year is Springfest, the biggest party on campus!
Ripon Live has numerous committees, including Coffeehouse, Mini-Courses and Entertainment, so there's something for everyone.
Interested in joining or helping out with events? Let us know at [email protected]