By Caitlin Marsch in Campus News, College Days on April 14, 2022
Campus group holds event to raise awareness of the Russian invasion of Ukraine
The Ripon College International Relations Club hosted an event April 5 to give students a way to show support for Ukraine amid the Russian invasion of Ukraine. This event was held in the Mihaly Dining Room in the Commons, where Ric Damm photographed students with signs such as "No War" and "I stand with Ukraine", and Ukrainian symbols.
Maythe Salcedo, the vice president of the International Relations Club, said that the club held the event because they wanted to start a conversation about the situation overseas in Ukraine. 
 "As a club, we aim to provide resources and education for our campus community, so Ric Damn brought up the idea of using photography as a way to get people informed, so that's exactly what we did," Salcedo said. "With Ric's help, we were able to start the conversation and encourage students to look into what is going on around the globe."
Nicholas Richter, the president of the club, noted that the event was well received. 
"Our 'Show Your Support for Ukraine' event was very successful, and we had a broad representation of the student body in attendance," Richter said. "It is heartwarming to see people of all beliefs and backgrounds publicly showing their support for Ukraine in the face of a brutal invasion."
Richter also voiced his concern about the invasion and subsequent conflict.
"Tens of thousands have died in only six weeks of war. I pray for peace, but I fear that this war will last for months longer," Richter said. 
The club plans on holding a philanthropic event in the near future.
"We hope to have a bake sale and use our proceeds to help aid those in need in Ukraine," Salcedo said.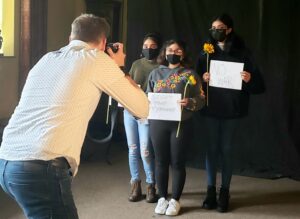 Richter also shared his gratitude for those who helped organize the event.
"A special thanks to Ric Damm for suggesting the event and providing the professional photography," Richter said. "I would also like to extend my heartfelt thanks to [International Relations] club members Maythe Salcedo and Alicia Contreras for their hard work in preparation for the event."
Editor's note: Caitlin Marsch is a member of the International Relations Club.