By Kara Vande Brink in Campus News, College Days on April 12, 2022
Ripon College students debate with pro-life demonstrators through much of Monday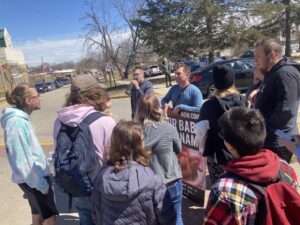 A vocal confrontation occurred Monday between several individuals holding a pro-life demonstration on the edge of Ripon College campus and some students. The demonstration began in the late morning of April 11th by the corner of Woodside Avenue and Seward Street near Evans Admission Center.
It started when an unidentified demonstrator, who appears to be unconnected with the campus, presented his pro-life perspective. As students gathered, most spoke out about his position. Others chose to observe from a distance. Most students kept their distance from the demonstrator himself, but a few decided to approach him and talk to him one-on-one or in smaller groups.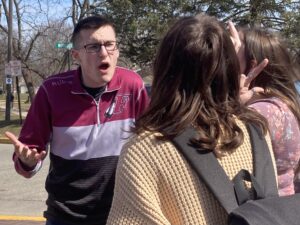 Later in the afternoon, Ripon resident Timothy Bachleitner, whose race for a Fond du Lac County Board seat concluded last week, joined the demonstration. Students, meanwhile, continued to gather to see what was happening while some were discussing, chanting, holding up pro-choice signs, observing, taking photos and videos as well as uploading their media online.
According to multiple students at the demonstration, the demonstrators were told they could not be on Ripon College property by Resident Life staff.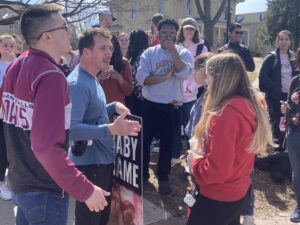 Later, a Ripon College student joined the pro-life demonstration and was allowed to be on campus property to discuss with other students.
The demonstration ended early that evening.
Check riponmedia.com or our social media for future updates from the College Days as they become available. If you were present at the event and would like to voice your thoughts to the College Days, email Kara Vande Brink or Deana Johnson at [email protected] or [email protected]. All perspectives will be welcome.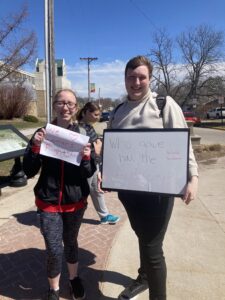 Editor's note: Multiple staff members of the College Days were present at the demonstration, but the author of this article attended strictly as a journalist to report on what occurred.