By Ripon Media in College Days on August 30, 2018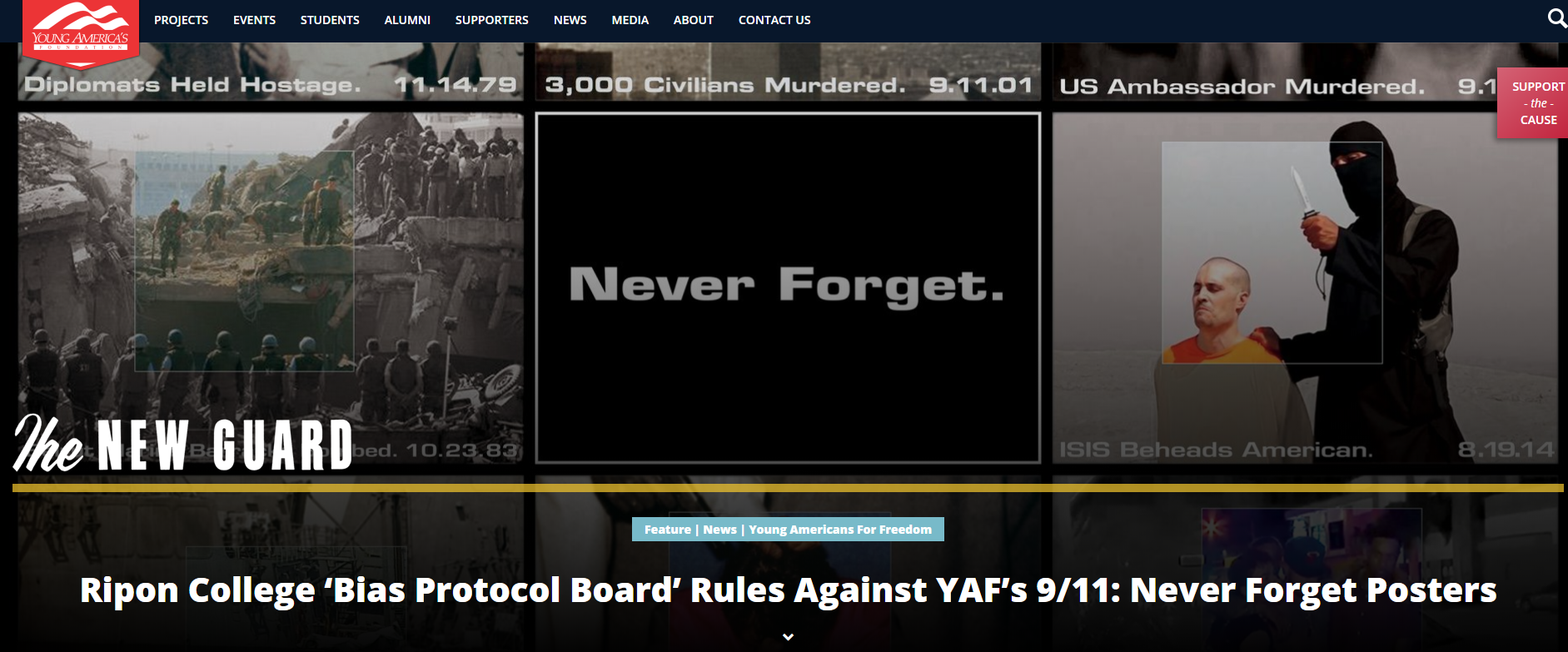 By Connor Renshaw
Conservative news organizations have posted articles online that criticize what the Young American Foundation (YAF) claims was Ripon College's response to the controversy surrounding posters put on display around campus by the local chapter of the YAF in early September 2017. YAF's version of events has been disputed by Ripon College, which says the claims are based in misinformation.
The articles, one posted on the YAF national organization website, yaf.org, and another on conservative news outlet The Daily Wire, report that in response to the findings of the school's Bias Incident Response Team, Ripon College administrators forbade YAF from putting up their posters.
Since its initial publishing, The Daily Wire's article has appeared on other conservative news sites. Similar articles have other been published by conservative sites such as The College Fix and The Washington Examiner.
The article posted on yaf.org contains quotes attributed to unnamed "administrators" and criticizes the school administration's justification for its response to the posters as "bizarre leftist excuses."
Posts made by Ripon College on its Twitter account, @riponcollege, as well as on Facebook, contradict some of the initial article's claims.
"There has been much misinformation posted related to a recent discussion between Ripon College officials and student members of the Ripon College Young Americans for Freedom (YAF) chapter," reads part of the post. "The YAF posters are not, and have never been, banned."
The articles follow a controversy that occurred last year when a student responded to posters put up by YAF depicting terrorist attacks by putting up posters of his own.
The response posters displayed slogans such as "Get to the point, focus on victims of 9/11, not on Islam," and "love Trumps hate."
The controversy eventually led to a meeting between a student and the then-president of Ripon's YAF chapter, in which the two discussed changes that could be made to the posters and how conflict could be avoided in the future.
Further coverage of those events can be found on riponmedia.com as the story develops.