By Ripon Media in Uncategorized on March 10, 2017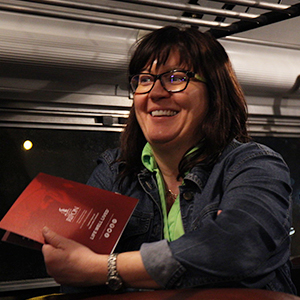 By Mra Than
"It has been two weeks since I started working at Ripon College and it has been amazing. I've met amazing faculty, staff and students and Ripon is such a welcoming community," said Sara Hathaway, Ripon College's newly appointed assistant director of Career and Professional Development.
As a first-generation college student, Hathaway developed a passion for learning and upon completing her undergraduate studies at Marian University she decided she wanted to pursue a career in higher education. Hathaway received a Master's Degree in Educational Leadership from UW-Oshkosh and began working as the Gifted/Talented Programmer at UW-Fond du Lac in its Continuing Education Department.
"I did not originally plan to work in higher education, but I love learning and being a part of a bustling college campus with students and their energy." she said.
However, when a new opportunity arose to be project manager and co-owner of Brown Boots Interactive, a marketing and application development company in Fond du Lac, Hathaway took the job to gain more experience and establish a wider network. During this time, she learned a lot about marketing and technology, and built strong relationships to serve the needs of the clients and the company. During this time, she also worked as the interim director of a local nonprofit called Community Education Opportunities, a nonprofit that helps high school students prepare for college and careers. After 15 years of working at Brown Boots Interactive, Hathaway realized that she missed working for a higher education institution.
"While working in the business of marketing, website and application development was exciting, I knew I wanted to go back to higher education at some point in my career," she said. "When the position in the Department of Career and Professional Development opened, I knew I had found an opportunity to bring my business experience and the network I had built to higher education."
As assistant director of Career and Professional Development, Hathaway's role is to work closely with students from first years to seniors to help them build strong foundations that prepare them for life after Ripon. She brings years of expertise and networks to connect students with the many opportunities available in the market right now.
"It's a really great time for students to be looking for not only internships but also jobs. It's also a great time for our campus here within Career and Professional Development to start making those connections for our students and for our community."
Hathaway's main goal with this position is to increase the presence of Ripon College in the employable or graduate world so that Ripon College students are at the forefront. Given her skills and years of expertise, she is excited and confident that will be able to help prepare students with their professional aspirations.
"I really enjoy working closely with students and being a part of the process that helps them achieve their goals," she said. "I enjoy getting to know them and learning from them but most of all it's really great to see their achievements get recognized."