By Ripon Media in College Days on October 23, 2016
It's her world. We're just living in it.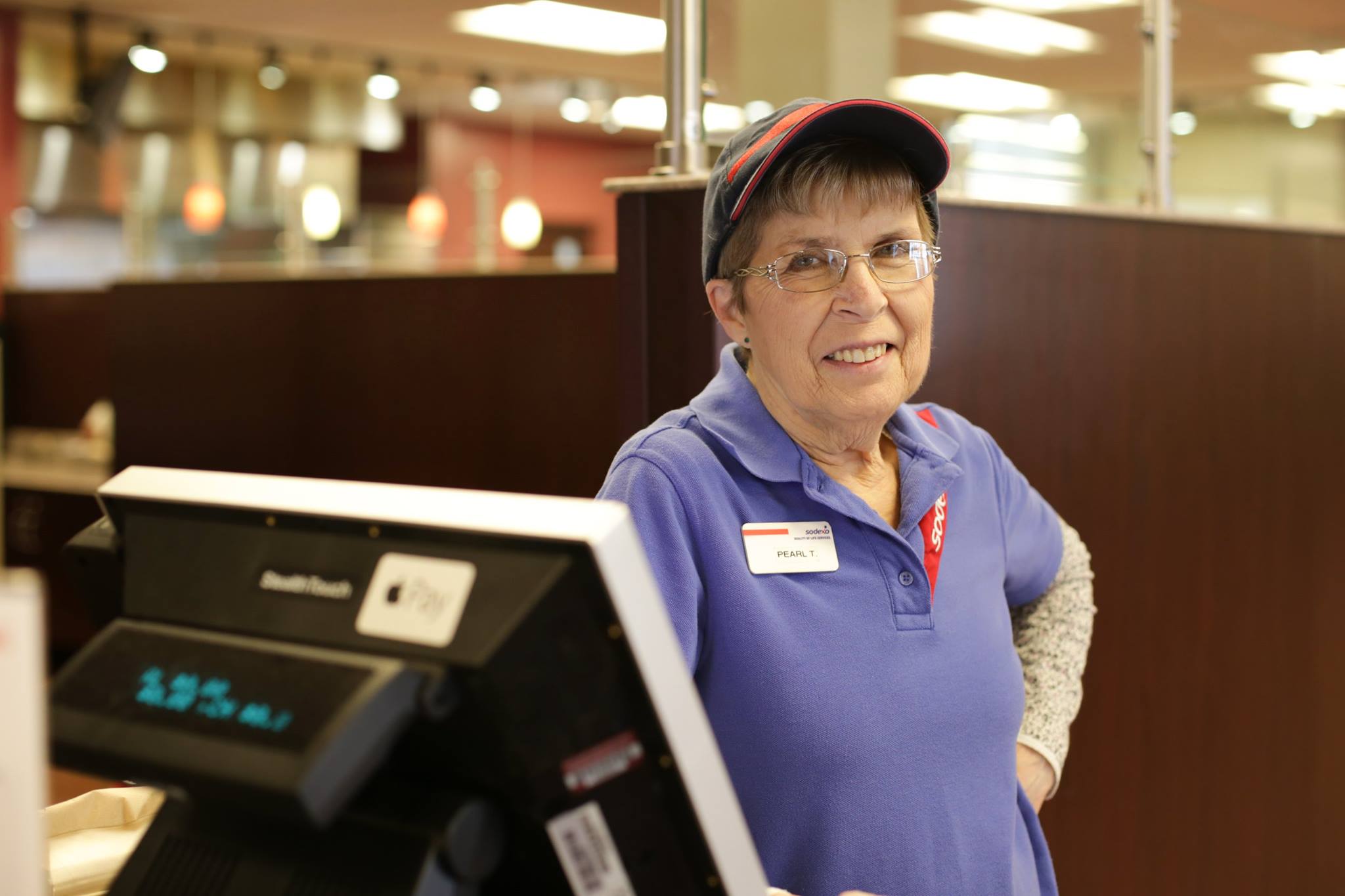 By: JJ Grinde
The most recognizable gatekeeper to the commons is also one of the friendliest. She always smiles and says hello. She knows if you are having a bad day, and will try a little something extra to make you feel even a tiny bit better. Of course, we are talking about Pearl Terbilcox.
With a maiden name of James, Pearl is Irish and French by descent. She was born in small town of Athelstane, Wisconsin, near the Upper Peninsula, with the nearest hospital located north of the Wisconsin-Michigan border. With two older sisters, an older brother, two younger brothers, and a younger sister, she was the middle child of a sizable family. When asked what it was like growing up with that many siblings, she only had one word to describe it: "Crowded."
"I was kind of tomboyish," Pearl said, preferring to play baseball with the boys, and typically befriending them more so than other girls her age, adding, "I liked to roughneck it." In her english and history teachers, she found people to look up to. "They just knew how to talk, and they knew how to get people involved. They made it fun"
Pearl has lived in a variety of locations of Wisconsin, ranging from Athelstane, Oshkosh, where she spent most of her time growing up and attending Oshkosh West High School, Crivitz, and now Ripon. Beyond Wisconsin, Pearl was also able to see other parts of the US. "I went to visit Camp Pendleton when my nephew graduated from the Marine Corps, and it was just…awesome."  Her other favorite place to visit is Gettysburg, saying, "If you just stand still and just listen, you can feel it [the history]. You can hear it. It gives me goosebumps just thinking about it." The one place that she has always wanted to go, but never got the chance to visit, is Alaska.
She came to Ripon because of her second husband, Bill, whom she met back in 2007 after mutual friends made an initial introduction between the two. They hit it off almost immediately. Unfortunately, he passed away six years ago, but that does not change the fact that they had an incredible time together. "We weren't together long, but we hit it off. Got married. He was the love of my life. That's what brought me to Ripon."
Pearl enjoys watching a wide variety of television shows, ranging from House Hunters to Alaskan Bush People. Her favorite, however, is Bridezillas. "It was on at 5:00 in the morning. I get up at 4:00, so I'd hurry up and get ready for work and then watch it until 6:00 before coming here [the commons]." During her time at Ripon, she has learned much about the students and an equal amount from them. Pearl believes that some of the best traits that people can develop are friendliness, kindness, and self-worth.
Reflecting back over the years she has spent at Ripon, Pearl has a tremendous amount of advice she offers to students. She believes that, when in doubt, students should follow their hearts. They should strive to be kind to others, and to believe in themselves. This confidence, Pearl believes, comes from within: "I think they just keep telling themselves, 'I'm not going to let you knock me down.'" Finally, she is a firm believer in laughing, saying, "A good sense of humor will get you a long way. It really will."
If she did not work at the commons, Pearl believes that she would have been a great fit in a different profession. "I would have made a great detective, because I'm not happy until I get the answers. I keep digging and digging until I get them." Particularly revealing of her character, when asked if she would be a good or bad cop, Pearl replied, "An honest cop." In ways, Pearl already is a detective, picking up on students who are having a bad day. "If someone looks a little sad when they come up, I say 'how are you?' We talk it out. I'm hoping they feel a little better when they leave, because they seem to."
Caring is perhaps the best descriptors of Pearl. When asked what the greatest gift she has ever given or received, her answer was simple, yet powerful: "Love." Additionally, she believes that the best purchase she ever made for under $100 was an eye exam for her son. With the students of Ripon College, her two sons, her daughter, her seven grandchildren, and her two great-grandchildren, she certainly has a lot to care about.
Finally, Pearl wanted to deliver a message to everyone who reads this story, making clear that she wanted anyone who has ever frequented her line to know: "I'll never forget them. They made an imprint on me….they had an effect on my life while they were here."